PSC Community Theatre Presents
THE SILVER MASK
Written by: Bill Ayers from Hugh Walpole
Directed by: Paolo De Paola
May 2019
FAMILY TIES
Written by: Daniel Goldstein
Directed: by Paolo de Paolo
May 2019
The Trial of D'Arcy McGee
By Anthony Russell
April, 2019
All the King's Women
By Luigi Januzzi
November 2018
Tales of Poe
June 2018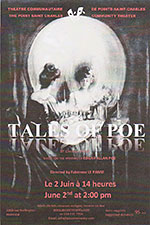 The Case of the Missing School
June 2018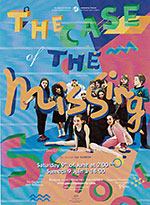 Celestial Serendipity
by
Russell Wiitala
April 2018
Madam Celeste is a spirit guide who on behalf of her seekers (clients) channels another entity Ebee from another planet in a parallel universe for advice. Her seekers come to find out if they should go on a holiday to find their own true love, quit their jobs and how to find hidden gold coins.
The PSC Community Theatre presents:
"AGATHA CRISPIE"
By
Cenarth Fox

A highly entertaining spoof about Agatha Christie and her characters...
The PSC Youth Theatre presents
Our Junior Actors offer:
"The Point of the Pyramid"

Saturday June 10th 2017 at 16:00hrs (4pm)
The PSC Youth Theatre presents
Our Senior Actors offer:
"30 Reasons Not to be in a Play"

Saturday, June 3rd 2017 at 16:00 hrs, (4pm)

VINTAGE HITCHCOCK
Imagine a time when stories were told by radio. Skilled actors would coax audiences out of their living rooms and into their imagination solely through sound.

In Joe Landry's play – spies; murder; love; and other trademarks of Alfred Hitchcock come to life.

The play is a trio of radio suspense dramas, The Lodger, (modelled after Jack the Ripper) Sabotage, (terrorist attacks and undercover investigation) and 39 Steps (international spy story) which are enacted for a live radio broadcast.
Dashing Through the Snow
By: Jessie Jones, Nicholas Hope,
& Jamie Wooten
Directed by: Greg Hamilton
The location is Tinsel Texas where a parade of "nuttier-than-a-fruitcake" guests descends upon the Snowlake Inn. The harried innkeeper Trina has her hands full with Mrs. Claus and one of Santa's elves on a romantic rendezvous; two feisty feuding aunts; 2 bombastic actors on a secret mission; and, a last minute wedding with the Futrelle family. There are 4 sitcom type skits which have been said to be more fun than a ride on a one horse open sleigh.
Our "Junior" Youth Theatre Program will be presenting:
PROFESSOR THYME
&
THE HISTORY MYSTERY
PLAY ON
By: Rick Abbot
Directed by: Mylène Chicoine
(A Play within a Play!)
by Luigi Jannuzzi
The Point Saint Charles Community Theatre presents
Exhibit this! The Museum Comedies by Luigi Jannuzzi –
An Award winning comedy where Works of Art come to Life!
By Katherine DiSavino
Directed by Frank Mascitt
What is Nana up to?
As Vera says:"There are many things in that sentence you don't want to know about"
"Suddenly at Home"
Written by: Francis Durbridge
Directed by: Mina Vladimir
This play is an Unconventional Thriller
One of the main objectives of the PSC Community Theatre is to fully support a FREE Youth Theatre program, taught by a professional acting coach. The Youth Theatre consists of two groups – A JUNIOR group of young actors that are generally in grade school and a SENIOR group who a usually in high school. At the end of May, each of these groups will be offering two (2) productions of their play as follows:-

The Junior Group presents
Treasure Island
Saturday, May 24th & Sunday May 25th
Both performances start at 4pm
The Senior Group presents
The Book Club of Little Witterington & Dead Ringer
Friday May 30th at 7:30pm
Saturday, May 31st at 4:00pm
Local Talent
By Montreal Playwright
Colleen Curran
A novel idea! It's 1990 and a cosmetic company decides to launch their new line by hosting a Mrs. Canada pageant. The lucky winner will be Minerva's spokesperson. A zany comedy featuring four contestants...
The Point Saint Charles Community Theatre Youth Group called
"Acting Out"
presents
"Fairy Tales with a Twist"

Come and see Sleeping Beauty; Cinderella and Snow White 20 yrs later. A hilarious- hysterical - comedy.
Good fun for the whole family.
Paris 1950, the cultural capital of the world where modern art typified the avant garde and Joe public bowed to the tastes and opinions of the experts. [Read More]
Come and share this poignant comedy about the lives of 6 women who
gather at the local beauty salon to do the things friends do..... bond; gossip; and argue!
"I am a beautician not a magician"
Kiss the Bride
by John Wooten
A Wedding reception like no other! Cast of characters include hit men, kidnapped bride, cops, hat check boy…. Mistaken identities abound in this madcap comedy!!!
Our Youth Theatre Program
"ACTING OUT"
The Trouble with Trent
(PHOTOS)
&
Around the World in a Thousand Year

As most of our audience is aware, one of the main objectives of the PSC Community Theatre is to offer a FREE Youth Theatre Acting program for any young actors in the greater Montreal area. We hope to not only provide these young people with acting skills - but also to provide them with self confidence; a chance to make new friends; the satisfaction of producing a good performance after many weeks of rehearsals etc.
This year our Youth Theatre Acting Out program will be presenting two plays...
Dangerous Corner
By J.B. Priestly

J.B. Priestly's first play is set in a drawing room at the home of Freda and Robert Caplan. They have just finished entertaining close colleagues of their publishing firm – and one of their novelists – Miss Mockridge...
Over the Checkerboard
by Fred Carmichael

The residents of a small Vermont town will do almost anything, or at least pretend to have done almost anything, in order to save their idyllic village from a ruthless real estate developer. They need to obtain a large cash advance in order to buy the land before the developer Benjamin Inchcape does.
They have been left a hot steamy manuscript by Oliver Foxworthy, a Pulitzer Prize winning author, and they have hatched a plan to convince the publisher that the manuscript is really a true story.
The Senior members of the PSC Youth Theatre program present:
Varney the Vampire or The Feast of Blood
On Saturday, May 28th 2011 at 4pm
The Junior members of our PSC Youth Theatre program present:
Peter Pan
On Saturday, June 4th 2011 at 4pm
HAYFEVER
By Noel Coward
HAYFEVER is set in the home of four eccentric members of the Bliss family (Judith; David and their two children Sorel & Simon). The Bliss family live their lives in a continuous display of drama. The fun really starts when they discover that each of them have invited guests down for the weekend.
A Little Holiday Magic
The PSC Community adult theatre joins forces with the young actors from our PSC Youth Theatre to present our 3rd Christmas - a new & very special holiday play.
A BULL IN A CHINA SHOP
By G B. Gilford
Tells the story of 6 elderly women living together, in a boarding house, who hatch a plan to meet their handsome neighbour – who just happens to be a homicide detective.
The Man Who Came To Dinner
By Kaufman and Hart
Sheridan Whiteside, a famous outlandish radio wit, slips on a piece of ice in front of the home of Mr. & Mrs. Stanley. While he recuperates, the household is forced to put up with the whims and caprices of their obnoxious house guest, as well as, his assorted acquaintances.
Into The Woods

The Wizard of Oz

J I T T E R S
By David French
It is a play within a play where the cast is preparing for their show "The Care & Treatment of Roses"
Videos & Photos from the Production
To view Videos go to: http://albums.phanfare.com/2345476/4455170#imageID=87062027
PSC Community Theatre Proudly Presents
"Annie"
A Youth Theatre Production
Videos & Photos from our Annie Production
To view Videos go to: http://albums.phanfare.com/2345476/2009/
To view some Photos go to: http://albums.phanfare.com/2395381
"The Unexpected Guest" by Agatha Christie
April/May 2009
Rumors by Neil Simon
November 2008
Zoomers - By "Acting Out"
June 2008
The Night of January 16th - by Ayn Rand
April/May 2008
Black Comedy - by Peter Shaffer
November 2007
To see some photos and video clips from Black Comedy please click on the following links. These clips are compliments of George McRae and the Point Web Site at www.thepoint.ca - Please note that you might have to join Phanfare in order to view these videos but it is an easy procedure. You simply click on the camera on the opening page of the Point Site (www.thepoint.ca) and then include your e-mail and a password. George will then approve you to see these and other Point event photos..
Night Watch - by Lucille Fletcher
May/June 2007
Bedroom Farce
December 2006
The PSC Community Theatre presented their second play called "Bedroom Farce" on December 1st; 2nd & 3rd – to see video clips & photos from Bedroom Farce, please click here: - http://www.thepoint.phanfare.com/album/162626

(Please note that the link to these images for both plays are provided compliments of George McRae & Wesley Dryden from the Point St. Charles web site at www.thepoint.ca)
The Good Doctor - by Neil Simon
June 2006
The PSC Community Theatre presented their first play – An adaptation of "The Good Doctor" on June 2nd & 3rd 2006. To view both video clips, and great photos of this play - please click here: - http://www.thepoint.phanfare.com/album/67181

(Please note that the link to these images for both plays are provided compliments of George McRae & Wesley Dryden from the Point St. Charles web site at www.thepoint.ca)